Year 4 - Viking Day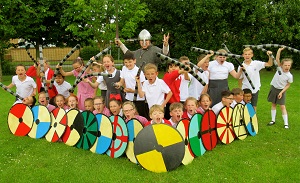 On Monday 12th June 2017, Year 4 spent the day with Olaf, a Viking warrior who fled his native Norway in search of land and riches.
The day began with the class finding out about who the Vikings were and why they invaded Britain. The children got to try on Viking clothing and we discussed their armour and weaponry, making comparisons with the Romans. After break, the class pretended that they were Viking soldiers and discussed why a Norseman may choose to 'go Viking'. We talked about Viking methods of transport, looking in detail at Viking longboats. Before lunch, the children learned that the Vikings were good traders, and would often steal things in order to trade. The children participated in some trading with replica Viking objects, haggling as best as they could.
The afternoon involved a furious battle on the school playing field between Anglo-Saxon and Viking warriors, which the class thoroughly enjoyed. The children were intrigued by some of the Viking sagas which were mentioned earlier on in the day, so to finish our session Olaf told a story about the Norse Nine Worlds which the class listened to attentively around a virtual campfire.
To see more photos of our day, click here.