Year 6 - Dearne Valley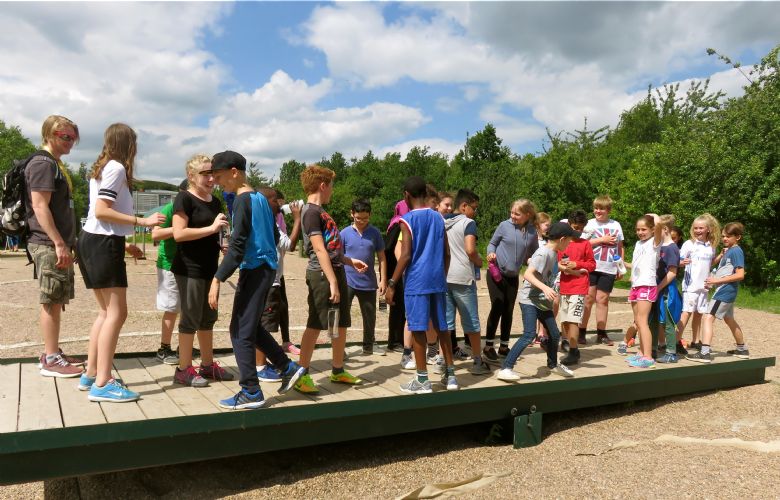 What an adventure! As soon as we arrived we got our cases sorted into a shelter and were off to our first activity. Fencing was hot, hard work. The class practiced their stance and fancy footwork before gearing up in the protective clothing. If the children weren't hot before, they certain were after putting on: a protective jacket, mask, and glove. Children took it in turns to score as many points as possible by hitting their partner with the tip of their foil.
After fencing we then collected our cases and made our way to our lodges. The rocky ground made this a challenge for those hoping to roll their cases all the way there. Once we reached the lodges everyone was eager to find out which rooms/beds they were using. With all the beds and rooms selected the next challenge was putting on a bedsheet, duvet cover and pillow case. This challenge proved too much for a few and needed some, a lot, of assistance. With the beds made and rooms sorted we headed for our first hot meal: chicken drummers with chips or bolognaise penne pasta. We also found out there was an unlimited salad bar and a few children tried to eat their body weight in either cucumber or sweetcorn!
With our tummies full we headed to our last activity of Wednesday, a campfire. At the campfire we sang lots of different call and repeat songs with Rory (our party leader). We also told jokes and tried to answer riddles. As it was Owen's birthday we sang 'Happy Birthday' and he kindly brought cupcakes for everyone to eat around the fire. As the embers of the fire died out we headed back to our lodges to get ready for bed (not sleep apparently). The children were eager to get themselves sorted and ready for bed but understandably found the trick of going to sleep slightly harder. They were reminded that breakfast was at 7:15am and we needed to head down at 7:05.
Surprisingly, everyone was wide awake and ready on time for a tasty cooked breakfast, cereal, toast and fruit. Once breakfast was eaten we headed back to the lodges to get ready for abseiling. As we walked closer to the abseiling wall the tower seemed to grow higher and higher. We all listened to the safety briefing and got geared up in our harnesses and helmets. Some of us were feeling sick with nerves but still made it to the top to look over the edge – even if they didn't go down via ropes. The feeling of leaning backwards over a 30ft drop was terrifying but once you made it down the sense of achievement was amazing; many of us got to go up and down 2 or 3 times.
After a short break, we made our way to the amphitheatre to hear about our next activity, orienteering. We split into groups of no more than 5. Each group was given a map of Kingswood, a sheet of paper, to record letters or numbers, and a pen. Rory explained all the areas where we could and could not go and the different signs we would be looking for. It was tough work reading the map and finding the signs and writing down the right letters/numbers. We then all met back at the amphitheatre to find out how many codes we had managed to collect. After this we headed to the cafeteria for our lunch; it was delicious. We had the choice of spaghetti and meatballs or jacket potatoes or –best of all- jacket potato with meatballs and a mountain of grated cheese.
Next on our list of activities, was problem solving. This involved everyone having to work as a team. We all stood on a great see-saw and were told to make it balance. It sounded easy enough but we quickly found out that any moving around made it impossible. After some discussion only a few people moved… then one… then we sat and finally we managed to keep both ends of the see-saw off the ground. The next team challenge was to get everyone from one side of a 'spider-web' to the other. Again, this sounded simple but once 2 people had been through one section it meant no one else could go through this part. This took a lot of team work and problem solving to figure out who would be best for each section but finally everyone made it to the other side!
We went straight from problem solving to Jacob's Ladder. We had to split into two groups at this point and were briefed on all the safety aspects. Again, like abseiling we had to get harnessed up and helmets on. The task was a simple climb from one bar to the next to get as high as you can/want. However, the higher you got the further apart the bars became. Trying to get your leg up high enough to hook on the bar was a challenge; using your upper body strength and core to pull the rest of you up was even more of a challenge. Everyone worked incredibly hard but only a few managed to touch the bar at the top: Charlie, Ruby, Louis, Tre'don and Ahmed. Exhausted, hungry and bruised (Miss Burggraf) we headed for our dinner, barbeque chicken, sweet 'n' sour pork or a vegetable sweet 'n' sour and ice-cream.
After a break, and a chance for the food to go down, we headed to our last activity of the day. Scrapheap challenge required the children to build a protective capsule for a water balloon to survive a 20ft drop. If the children weren't already motivated they were told any surviving water balloons could be thrown at an adult of their choosing. The adults thought this was unfair and decided they needed to have the opportunity to have a water balloon too. The children managed to make two capsules that protected the water balloons. They selected Rory to throw them as the first exploded in Lewis's hand as he tried to throw it and the second bounced off and popped on the floor.
Waking up on Friday morning was slightly harder than Thursday: two late nights had taken its toll. After breakfast, we got changed into clothes we didn't mind getting wet as we were going canoeing. Once we had put on our life jackets, we picked up an oar and headed down to the water. We listened to the instructions on using the oar and boarded our boats - three in each. We were given time to practise, turning and moving in different directions; then it was time to race! Mrs Robbins, Miss McGroarty and Miss Burggraf started well and took an early lead but really struggled when it came to turning around and lost their lead on the way back. We played 'Zombies'. A boat was selected to 'infect' the humans and a doctor to cure any who had been infected. The zombies and doctor had to tap the front or rear of the boat in order to change them. Mason, Lucas and Mr Alford were chosen to be zombies infecting as many humans as possible. Some of the Zombies (Mason) got a little excited when they came close to a human boat and leaned too far over, making the boat capsize! Once everyone was sorted back in boats or the bank, we then played a game with a selection of balls trying to throw them into each other's boats for points. We then had the choice to jump into the water and swim to the shore.
As many of us were wet we got changed and packed the rest of our clothes. The girls were very good at getting their belongings together in a bag ready to take home. The boys found the task of gathering things from different locations and putting them into a bag slightly harder and needed Miss McGroarty (and Joshua) to collect many items. We then carried our bags to the bus and waved goodbye to Kingswood and Rory.
What an adventure!
To see more photos of our Kingswood adventure, click here