Year 4 - Rutland Water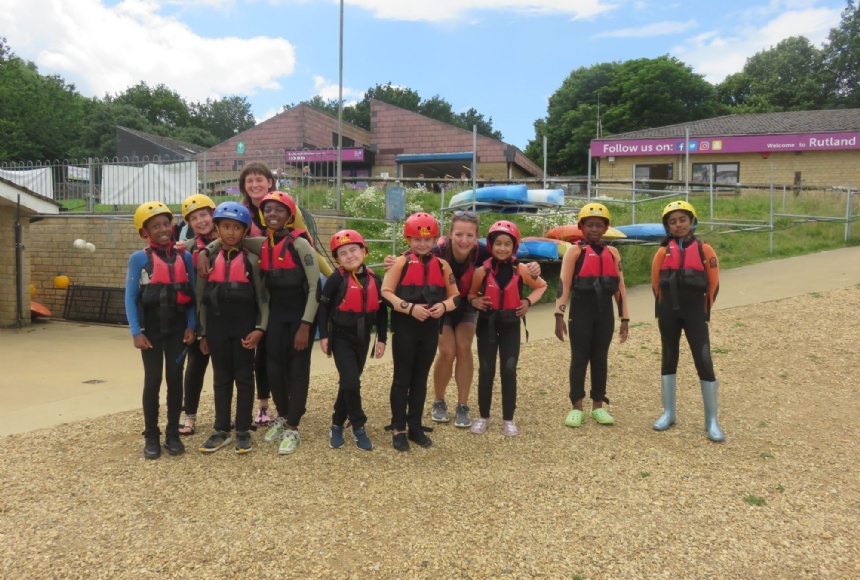 On Wednesday 7th July 2021, Year 4 went on a trip that I have been reliably told (by Year 4) was the 'best trip ever'.
We travelled by coach to Rutland Water, full of excitement, nerves and weighted down with a remarkable collection of 'poppet' fidget toys. Year 4 were on the way to conquer their fears, develop teamwork skills and take over all available public toilets in the vicinity.
We arrived and disembarked from the coach to begin our 'Mindfulness' walk around the reservoir and towards the Water Sports Centre. At this point it began to rain. Thunder storms were forecast. Waterproof coats were hastily employed. Thankfully, in our 'Mindful' state we embraced the sensation of rain on our skin and began our trek. Our optimism brought the sun out and in moments we were basking in beautiful weather, counting butterflies and trying to name the flowers in the hedgerows. Note to Year 4 – not all flowers are bluebells. Most of the class were fascinated by a field of cows and tried to communicate with them. As per the Risk Assessment they were warned not to antagonise the cattle as this could make the livestock 'moo-dy'.
After a picnic lunch, Year 4 spent what felt like an eternity wriggling into their wetsuits and then wriggling back out again as they realised that they still had their clothes on, were wearing the wrong size or that they needed the toilet, again!
Eventually we were all kitted out with the correct safety equipment and ready to clamber, crawl, tumble and roll into our kayaks. In groups of four we set sail. There was minimal screaming and squawking from the class, although many roosting ducks did make a hasty getaway as we approached. I can name no names but several members of the class lost paddles, kayaks span out of control and faces suddenly broke into delighted grins, particularly when kayaks capsized and tipped their crew into the water! Nerves turned to smiles, smiles turned to giggles and giggles turned into howls of laughter. It was wonderful to see.
We landed on the raft building beach. Now, that's not strictly true. My group crashed into the beach and several others abandoned ship and just swam the last stretch. We did, however, all make it to the beach. With a little guidance each group built a seaworthy raft and plunged, once again, into the water. It may have been a mistake to name one of the rafts 'Titanic 2'. I'm sure you can imagine what happened next. Children had to rescue each other from the murky depths and bodies were unceremoniously dragged back aboard their rickety crafts. This group accomplished so much and overcame their apprehensions. Their pride in their own achievements was palpable.
By this point Year 4 were indestructible so the instructor took us for one last challenge: The Jump into The Deep. It was truly a leap of faith. Our instructor demonstrated that our safety gear would float and that, in fact, it would be impossible not to float! With that reassurance we lined up ready to face the challenge. In pairs, the children leapt from the walkway and then emerged from the reservoir with water running out of their safety helmets and weeds adorning their hair. Facial expressions ranged from exhilaration to disbelief and shock. Wearily, we swam to the shore. The children whooped and high-fived (actually, that may just have been the teachers, who did get a little bit giddy with the thrill of adventure).
We were all tired, wet and a little bit smelly as we returned to school. Actually, on reflection, the coach driver cranked up the air conditioning on the drive home so we may have been more than a little bit smelly! Most of all though, Year 4 were happy. They were proud. We had a lovely, memorable day.
N.B – Although we may have left a few odd socks behind, all children were retrieved from the water and returned to their grown-ups.
If you would like to see more photographs click here